Sports
EA FC 24 Mason Holgate Squad Foundation SBC
The Mason Holgate Squad Foundation SBC is now available in EA FC 24, and players can earn yet another special item for their Ultimate Team squads. While it doesn't belong to the ongoing Triple Threat promo, the new card features boosted stats and an overall rating, making it a potentially great addition for any player. Moreover, you won't have to open any packs to secure this new item.
All you need to do is complete the task(s) that are part of this squad building challenge. The first job is to estimate the possible number of coins that you'll need in order to complete the tasks.
This will allow you to decide whether to attempt the challenge in the first place. The best way to get an idea of the probable costs is by analyzing the tasks of the Mason Holgate Squad Foundation SBC in EA FC 24.
" class="promoted-img" loading="lazy" width="1440″ height="220″ alt="fortnite-promotional-banner" />

---
EA FC 24 Mason Holgate Squad Foundation SBC tasks
The Mason Holgate Squad Foundation SBC is a relatively simple addition to Ultimate Team, as it has only one task. While the task has certain terms and conditions, they're relatively straightforward for beginners and veterans alike.
Task – Mason Holgate Squad Foundation SBC
# of players from England: Min 1
Minimum OVR of 86 : Min 1
Squad Rating: Min 83
# of players in the Squad: 11
You can complete the latest SBC for as little as 23,000 coins if you get all the fodder from the market. You can reduce the final cost using cards that are already available in your Ultimate Team collection.
Moreover, this challenge will be available in Ultimate Team for the next five weeks, so you have plenty of time to grind for the required fodder.
Based on your weekly performances in Squad Battles, Weekend Leagues, and Division Rivals, you'll earn different packs. These packs will help you provide the cards that can help you get the SBC done for cheap. It will also save you coins that you can use for alternate purposes.
---
Is the EA FC 24 Mason Holgate Squad Foundation SBC worth it?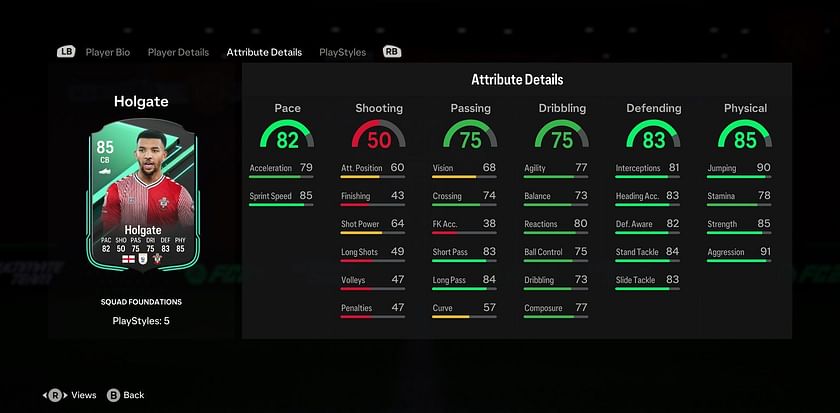 After completing this challenge, you'll get an 85-rated CB item with decent key stats. With 82 Pace, 83 Defending, and 85 Physicals, the card has a good combination of defensive stats.
It also has the Intercept and Anticipate playstyles, both of which can be extremely useful in tight situations. For what the card is worth, the SBC definitely has some worth.
The card can be pretty useful for anyone if they're looking to make a team themed around the EFL Championship. However, it's best to complete this challenge only if you have plenty of disposable fodder in the EA FC 24 Ultimate Team.